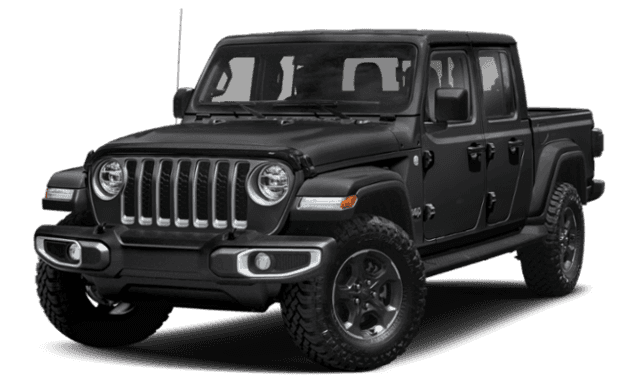 2020 Jeep Gladiator
2019 Jeep Wrangler
2020 Jeep Gladiator vs. 2019 Jeep Wrangler
Uconnect® 3 with 5-Inch Display
Standard Touchscreen System
Uconnect® 3 with 5-Inch Display
Are you looking for a new Jeep to take care of your drives between Appleton and Green Bay? Two of the most popular models at Vande Hey Brantmeier are the 2020 Jeep Gladiator and the new Jeep Wrangler. Both offer legendary Jeep performance, capability, and several unique interior and exterior color choices, but which one is best-suited to your needs? The team at our Jeep dealership near Manitowoc have compared the Jeep Gladiator vs. Wrangler so you can see which is better suited for you!
Jeep Gladiator vs. Wrangler: Starting Price and Configurations
For the first round of our comparison between the 2020 Jeep Gladiator and the 2019 Jeep Wrangler, we're taking a look at the starting price and available trims of each vehicle. The new Gladiator comes available in four 4×4 models, including the Sport, Sport S, Overland, and Rubicon, each of which comes in several unique colors.
2019 Wrangler SUVs are available in 10 unique trim levels, including three two-door models and seven four-door models. If you'd like to choose the least expensive option, then the Wrangler makes a strong case for itself. Let's take a closer look at the starting prices of each model:
2020 Jeep Gladiator:
2019 Jeep Wrangler (two-door models)
2019 Jeep Wrangler (four-door models)
Sport Altitude: $36,440 MSRP
Sahara Altitude: $41,690 MSRP
Jeep Gladiator vs. Wrangler: Engine and Performance Capabilities
While you know for sure that all Jeep models were built to be world-class performers, there are certainly distinct differences when comparing the Jeep Gladiator vs. Wrangler. Towing capability specs for each model are as follows:
2020 Jeep Gladiator Maximum Towing Capacity: 7,650 Pounds
2019 Jeep Wrangler Maximum Towing Capacity: 2,000 Pounds (two-door) / 3,500 Pounds (four-door)
While the 2020 Jeep Gladiator offers a greater amount of towing capability, and can certainly hold its own off-road, those who have a greater affinity for off-road performance might prefer the Wrangler. When comparing the Jeep Gladiator vs. Wrangler, dedicated off-roaders will surely appreciate the shorter, lighter, and more maneuverable Wrangler for hitting the trails near Appleton.
Find the Jeep Wrangler and Jeep Gladiator for Sale at Vande Hey Brantmeier Today!
Are you ready to compare the Jeep Gladiator vs. Wrangler for yourself? Get ahold of the team at Vande Hey Brantmeier through our online contact form! We'll be happy to show you our selection of 2020 Jeep Gladiator pickup trucks and new Jeep Wrangler models. We'll help you choose the perfect Jeep for your lifestyle and budget!
---
Learn More With Vande Hey Brantmeier
The 2021 RAM TRX is available for Chilton drivers who want to max out their specs on a high-performance pickup. Powered by a Hellcat engine, the TRX is designed inside and out to be the ultimate off-road truck. Vande Hey Brantmeier covers the massive RAM TRX horsepower, the RAM TRX price, and other 2021 RAM TRX specs…

Looking for a pickup that's unlike anything else on the market? You're in the right place. There's no new pickup quite like the 2020 Jeep Gladiator. What exactly does this Jeep truck offer? Aside from outstanding performance and top-up or top-down flexibility, not to mention removable doors and unique off-road abilities, the Gladiator also comes…

Looking for a new Jeep SUV that's consistently ranked among the top SUVs available? Consider the new Jeep Cherokee! Available in a myriad of trim choices so there's something perfect for your unique needs and budget, the new Cherokee is an SUV that has something to offer every Appleton or Green Bay driver. Whether you prefer…